Contact Board Certified Tax Attorney Jeffrey B. Kahn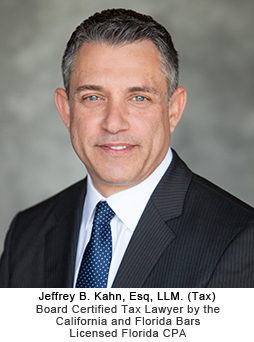 Need help setting up an IRS payment plan? Got questions about delinquent taxes? Struggling with IRS tax levies? Is your state taking against you for taxes? No one should have to face tax problems alone. Contact the Law Offices Of Jeffrey B. Kahn, P.C. for responsive, proactive legal assistance with a wide range of tax issues. When you contact a California tax lawyer from our firm, you can pursue the best possible resolution for your income and assets.
With three locations around the San Francisco Bay area and four locations in Southern California, we're easily accessible to Northern California and Southern California area residents. For those who are located outside of these areas or who would rather connect via remotely, we are accessible through telephone, chat, email and video conferencing as well. Whether you need a
tax attorney in San Diego
or San Francisco, we can be reached using any of our local telephone numbers or toll-free telephone number below. We look forward to hearing from you!
Locations
Address
EAST BAY – WALNUT CREEK OFFICE
1255 Treat Boulevard, Suite 300
Walnut Creek, CA 94597
Telephone: 925.979.9929
SAN FRANCISCO OFFICE
One Market Street, Suite 3600
San Francisco, CA 94105
Telephone: 415.543.4434
SILICON VALLEY – SAN JOSE OFFICE
2033 Gateway Place, Suite 500
San Jose, CA 95110
Telephone: 408.573.7377
ORANGE COUNTY – IRVINE OFFICE
15615 Alton Parkway, Suite 450,
Irvine, CA 92618
Telephone: 949.724.0007
SOUTH LOS ANGELES – LONG BEACH OFFICE
111 West Ocean Blvd., Suite 400
Long Beach, CA 90802
Telephone: 310.215.9800
EAST LOS ANGELES – ONTARIO OFFICE
3200 East Guasti Road, Suite 100
Ontario, CA 91761
Telephone: 909.418.6800
SAN DIEGO COUNTY – CARLSBAD OFFICE
701 Palomar Airport Road, Suite 300
Carlsbad, CA 92011
Telephone: 619.237.0405