Law Offices Of Jeffrey B. Kahn, P.C.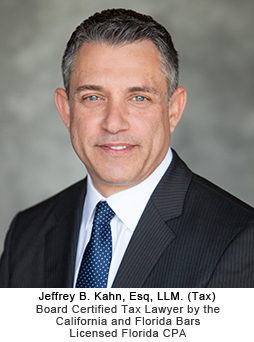 The Law Offices Of Jeffrey B. Kahn, P.C. are headed by Jeffrey B. Kahn, Esq., a member of the California and Florida Bars and California and Florida Bar Board Certified in Tax Law. Mr. Kahn earned his JD and LL.M. in Taxation from the University of Miami School of Law and his B.B.A. from Florida International University. He is also a licensed Florida CPA.
At present, our probate, business, and tax attorneys in California are located at three offices in the San Francisco Bay area and four offices in Southern California. Our practice focuses in three areas:
Estate planning, probate, and guardianship. This includes creation of well-thought-out estate plans for both U.S. citizens and non-U.S. citizens, estate tax planning, probate administration and litigation, and assistance with guardianships. We can assist with the range of complex issues associated with estate planning.
OFFICE LOCATIONS
Through our Northern California offices in Walnut Creek, San Francisco, and San Jose, and our Southern California offices in Ontario, Long Beach, Irvine and Carlsbad, all matters are confidentially handled by our professional staff, resulting in high quality, cost-effective service. Contact a tax attorney in Los Angeles or San Diego today. we are available by calling toll-free 866.494.6829.
ATTORNEY INFORMATION – Click on each name for biographical information
Jeffrey B. Kahn, Esq. – Principal Tax Attorney